Cycling gives a soothing feeling. With the thriving technology, the old school bikes are now being replaced. Pedal-less cycles or electric scooters are getting more popular by the day. You might feel a bit odd when someone glides past you speedily with their normal e-scooters. But there isn't any stopping from them going electric. Though few hardcore cycling fans might not like these pedal-less cycles, I must say these do have few benefits. Reducing fossil fuel usage is enough for a reason to make it worth it. And these Swagtron Swagcycles are going to attract more people to go eco-friendly.
SWAGTRON SWAGCYCLE ENVY
This nicely made foldable light electric bike can be convenient for many people and is easy to carry. As compared to regular electric scooters, this is a bit smaller which, with LED light at the front and a bell, gives it a swag look. With a powerful 200 W motor and 12-degree travel incline, it is a powerhouse. It has two footrests at the front wheel and a handling display allowing you to check the Swagcycle's status while riding comfortably. With a smooth folding mechanism, this e-bike is easy to use.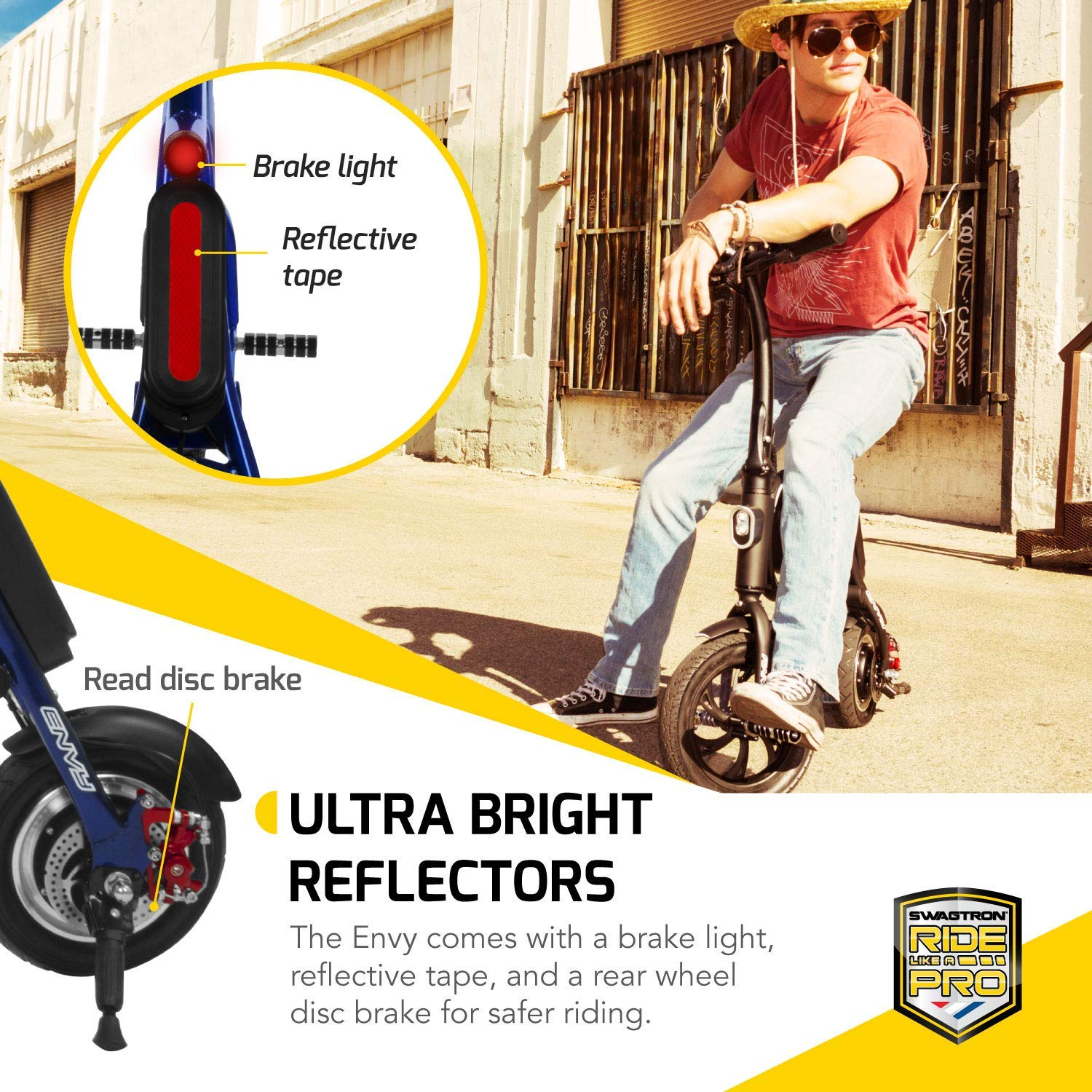 The e-bike weighs around 19 kg. It has a charge time of 3-5 hours and can take you around 14km per charge. With a steel body and rear disk brake, this e-bike is one stop on the dime. With a powerful battery, beautiful look and handy control, this Swagtron Swagcycle Envy is an all-weather companion designed for your convenience.
SWAGTRON SHORT COMMUTE FOLDING E-BIKE, EB1
EB1 is among the cheapest electric bike that Swagtron has brought to us. With an ultra-strong, durable and collapsible aluminum alloy frame, it suits rider up to 120kg and can be folded down to fit under small space. Its twin-rail saddle matches industry standards so you can adjust or swap the seat out and roll a comfortable and smooth ride on 14" and 12" tires. The best thing, it provides you multiple riding styles go with pedal assist, pedal-only power or goes full throttle. Switch between these styles effortlessly.
With a charge time of 2-3 hours, it hits a top speed of around 20 km per hour and can cover a distance of about 12 km per charge.
When with a low battery, you can also use the USB port in the handlebar and use your phone's charging cable along, charging on the go. Its high power, high torque 250 Watt motors have enough power to make you reach there, and can climb inclines up to 25 degrees. But you can always pedal more, but that's on you. When it comes to stopping, its dual disc brake and Auto guard braking technology provides adequate stopping power.
So from small rides to long leisure, this e-bike has everything to provide. So change the way you travel with EB1.
In case you are a speed lover, go for Swagtron Swagcycle EB5 Pro. EB5 is an upgraded version of EB1 and EB2. You can read in detail about the advance features of Swagtron EB5 at Buyselfbalancingscooter.
SWAGCYCLE PRO PEDAL-FREE ELECTRIC SCOOTER BIKE    
Swagcycle pro will give you the ultimate ride experience. Robust and foldable, its sturdy frame can support rider up to 120 kg and rolls over 12" and 10" inch tires to provide you with a smooth and comfortable ride. Collapse its stem and handlebar for more accessible storage. Extreme torque and high power 350 Watt motor tackles speed up to 20 km per hour and climb incline up to 12 degrees. With a charge time of 4- 4.5 hours, you can traverse about 25 km per charge.
Download the swagcycle app and get connected to your bike to enjoy full features. You can track your trip, speed, travel time, GPS and much more. You can plug your phone into its USB port to stay fully charged wherever you go.
Pick a swagcycle pro and ride like a pro.
Swagtron builds secure, reliable, and convenient cycles. These cycles will entice you in a way you can't imagine. Invest in your fitness, on your health. For a pleasant ride, invest in Swagtron. These eco-friendly bikes will take you comfortably wherever you want to, so stop wasting your time and effort and pick one.